How exciting! I was in the middle of writing this blog when I came across Ron's blog. Similar theme, different styles but along the same lines!!
This weekend I stayed away, deep in the countryside rambling along the coastline pathways and cliffs. On Saturday I received a text from a fellow ecadamate, someone who I had invested my time in encouraging both he and his wife to making real life changes to improve on their quality of lifestyle. Something clicked, as both he and his wife decided to move from Watford to come and live in Swansea. I blogged about this lovely story here…
So here we were, rambling along coastal pathways and cliffs with three dogs. We watched his labrador run into the sea endlessly to retrieve sticks which eventually reduced to the size of a Mars bar. My daughters Spaniel, Louis kept up the chase but preferred to chew at his favourite choice of bark. Now we had been out for well over three hours, in which time I asked him how he was enjoying living so close to the Gower. There was no comparison for him, now living in a house with a garden and two dogs, plus car with brilliant access to most coastal walk trails. The whole day celebrated on the Cliff top Coffee shop, sharing an outdoors tea party celebrating Louis's forthcoming 3rd Birthday.
Validation – Ideal locations for 1-2-1's. How do you value somones time in terms of quality service and expertise? Bernadette touches upon this subject frequently in her blogs! Putting a fair price on your goods or services for Me is the crunch question here on ecademy, as so many coaches dabble on the weaknesses of those online.
I can only answer for myself, as I have paid out of my own pocket for years of business consultancy training and qualifications and experience to boot! Empowering others to live a healthier, happier more energetic life for me is a Result!!
Can you put a price on providing such a meaningful dedicated service, empowering others to lead a healthier, happier more energetic lifestyle?
I love the different styles of blogs here! Human
Carolyn, helping you to #Sparkle with Confidence on Social Media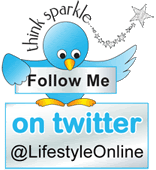 www.lifestyle-online.co.uk
www.facebook.com/LifestyleOnline