Reading through the variety of topics on the FP this morning..
One which asked us to give feedback on our fear of the camera, having our Profile Headshots done to another asking for help as his partner needs help in finding an admin job, to another asking us to debate becoming an Ace Business Success by forsaking quality time with wife/husband/partner or family? Then along comes Richard, telling us through a line of poetry, of his terrible loss. The type of blog that stops you in your stride and hits you between the eyes and in the heart and stomach.
Coaching stride technique is one I am familiar with being an ex Athlete and Physical Education teacher. Over the years of walking, dancing, jogging, running I have learn't that events happen to you in life which can bring you to a fullstop!!.
My Sgt Paratrooping son takes over from me, both in the skies and on the ground, foot slogging away on a daily basis. Then along comes another of his paratrooping pals Ben Parkinson featured on HTV News Saturday night (not long after our 6 Nations Match
) astounding medical science, his doctors, nurses and physio's at taking those short but definite steps. We also witnessed another miracle, hearing Ben himself expressing his words of gratitude.
Words of gratitude to his lovely Mum Diane and to the NHS Staff who worked on him to keep him alive and with him to help him recover from his horrific injuries. Helping him to recover his balance, speech and to master those footsteps again….

Whenever something or someone's stride is halted I remember this Footprints Poem. 'Last night I had a dream. I dreamed I was walking along the beach with the Lord. Across the sky flashed scenes from my life'…
I read again those words of gratitude to NHS Staff on Richard's Blog
Thinking of you Richard, and I hear you. x
Carolyn, helping you to #Sparkle with Confidence on Social Media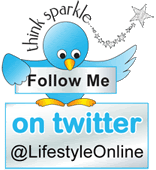 www.lifestyle-online.co.uk
www.facebook.com/LifestyleOnline