I joined the 'world of car mechanics' yesterday getting an Mot and having a punctured tyre fixed!
Writing most of the day off, I read instead. I spent time catching up reading interesting press articles!
Helping others to wittle away extra Body Fat is a large part of my work, so I wanted to front up this awful illness called Binge Eating, as courageously described and fought by the Monica Seles – Ace Tennis Player ' Her book 'Getting To Grip' is published by JR Books and out on May 28th
She describes how one day at the peak of her career, at the age of 17, she was knifed by an unbalanced, obsessed supporter of her fellow ace star tennis player, Steffi Graf. Shortly after this horrific incident her father died from cancer. It was these two tragic events, that tipped her emotionally. She found herself relying on Binge eating for comfort, ballooning from a size 8 to an 18. Her confidence and her self esteem in tatters. This illness is not gender selective. As she continues to describe her relationship with her 'then boyfriend ( another Binge eater ) escalated her problem. The break up of this relationship eventually made her front up her 'eating disorder.
It's not until we front up our addictions do we look them squarely in the face and begin to recover..
Great results for her now are not about winning Wimbledon but having won back her self esteem and confidence in how she thinks, feels and looks!! Sexy, curvy and attractive A great read with a successful outcome.
'Getting to Grip' by Monica Seles – A great encouragement for so many people with eating disorders. Oh and getting into that LBD


Inactivity can trigger our brains to keep eating until we burst. We see several young teenagers refusing to eat or in the case of
diabetics to take their insulin, incase it makes them fat! Pressure to mimic 'stick thin' models and pressure to live up to incredible high standards, defies logic! Sometime through a static, inactive job you can convince yourself you feel hungry but you can't hoodwink the weight/ stamina/age test equation.
Good self esteem and loving ourselves for who we really are, as opposed to striving to excel in reaching those ever increasing standards would be a good start Mehmet.
For others it's to get a sensible perspective of good healthy weight and shape and making the most of our bodies, as opposed to being pre occupied. Finding a pursuit your passionate about and just Doing It! What does this Clip communicate?

You are so beautiful
Getting a Grip! – another story!

I would not recommend a 500 Calorie Diet for Exercisers
Carolyn, helping you to #Sparkle with Confidence on Social Media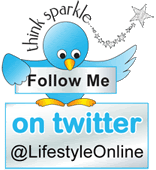 www.lifestyle-online.co.uk
www.facebook.com/LifestyleOnline