RahRahRomaGagaohlalala 'I want ya love…love..love…love!'..
International Breakthrough Female Award Winner!

Photo courtesy of Mail Online
Last night after a very pro active day in the work place, I sank back onto my sofa, giving into the fact, I had given more than 110% to my clients for one day. Motivating and creating lot's of individual programmes, one of which I enjoyed the most was…putting a medicine /fitball circuit together, for a deaf employee.
I interviewed this gentleman a year previously, as he had been advised to lose weight. His increase in weight was just one obstacle, he also had physical problems from birth, having malformed hips and knees.
Having assessed his abilities and difficulties, he then followed my weight awareness food plan and understood the effects of over eating 'wrong foods' had contributed to his low self esteem.
His deafness on times was perceived by fellow employees and employers as he being 'educationally' slower. Far from it, his ability to pick up coaching tips and exercise routines were superior. Psychologically he grew in ways many would fail to grasp! Confirming emotional intelligence plays a key role in determining success in life and in the workplace.
What would his example have in common with Lady Gaga's? Well I have watched her performances since she hit the TV/Youtube screen and underneath her spectacular oufits (as seen above) the lady has natural talent. This raw talent has attracted an ever growing number of followers. Yes, proving that it is how we perform and are loved by our networks and communities that can determine the winners we become.
What is even healthier to see and read, is that these young artists and employees alike are giving a precentage to charities. Penny's blog touched upon this earler. I really do see that young people and celebrities are very aware of the starving, disadvantaged members of our society. "Confidence on the outside begins by living with integrity on the inside."
Enjoy lot's of fun celebrating Ecademy's 12th Birthday Party!! I will be thinking of you all, as I get myself better!
Cx
Carolyn, The best business attire a Smile! on Social Media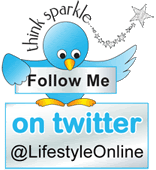 www.lifestyle-online.co.uk
www.facebook.com/LifestyleOnline