"Winning the hearts and minds with the willingness to have muscle"
This is a strapline I wrote on my website, having heard it given me by a local Business Advisor, when I launched Corporate Well-being. This lady knew of the well-being initiatives that were ongoing at Bridgend Engine Plant, Ford Motor Company. This facilitation and years of experience promoting better health programmes on the shop floor was one I have wanted to roll out to other companies who were passionate about investing well-being programmes that gave higher retention and lower absenteeism figuers.
Recently I read The Big Mo written by Mark Roeder. In his book he claims life is becoming so frenetic we are at risk of losing ourselves in the momentum, laying ourselves open to unsettling levels of influence.
One of the key reasons we are so open to influence is that humans have evolved to be born mimics. Since there is little point in copying failure we have evolved to emulate the most successful people we see, in the hope that the imitation will elevate us to their rank.
Our actions are profoundly influenced by the people around us from our relationship status to how happy we feel.

Momentum – Wikipedia
Internet Influence
For me personally, I feel there is a greater responsibility for us to understand and accept the influence we may have through writing blogs and editorials on the internet. Roeder says 'The biggest danger is being oblivious to momentum. So busy 'doing' and 'having that we feel we have no time to  just be.  Step outside from our cultures obsession with momentum, one thing we all do have is time. It's important to use it well'.
Who is your target audience?  How do you influence your social media connections?

C
arolyn Williams,  Breathing for Business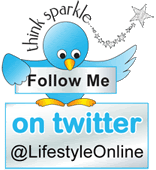 www.lifestyle-online.co.uk
www.facebook.com/LifestyleOnline
Tags: #Sparkle#Influence#Business#Confidence#Momentum#Lifestyle#Coaching