Photo courtesy of Flickr
Keeping yourself stretched to full max debilitates and generally means "little" time for anyone or anything else.
"I wanted to highlight someone in business, who by her own testimony through trial and error found her answer. How many times have you been caught out saying 'yes' to everything both at home, and in business? How debilitating does this become? Being true to yourself means the same quality for your business".
Karen of Be Fabulous wrote
"My marketing business had taken on quite a few new clients this year and although I knew that there was a possibility I could be spreading myself too thin that draw of extra billings clouded my judgement and I kept saying 'yes' to everything.
She concludes by saying "It's all about being true to yourself, being who are you and not allowing others around you to define you, to control you or to allow them to bring you down. I found my inner fabulousness last week – I believed in myself and I stood up for myself. And boy does it feel good!"
And Boy! does it feel good!
Happy Thursday.
Carolyn, helping you to #Sparkle with Confidence on Social Media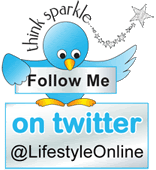 www.lifestyle-online.co.uk
www.facebook.com/LifestyleOnline