Yesterday, I enjoyed a wonderful 1-2-1 dynamic business appointment at a forward thinking Sports and Footwear Specialist Business called Ace, Canton, Cardiff run by Andrew James and his fabulous group of professional staff yesterday. The most intriguing aspect of my meeting with Andrew was that he just didn't have time for the social media networks. He teasingly kept saying 'Twitter I haven't got time for twitter, I'm far too busy!!'
Having seen him in action yesterday, he truly is but I 'nudged him' to think about getting another ..> to tweet all the wonderful facets of his fabulous Business called Ace.
I had been referred to Andrew, roughly twelve years earlier, by Sports injury doctor – Mark Ridgewell in Mumbles. I had been training and competing for years as a middle distance runner and netball player with stress fractures. Little did I realise the years of teaching exercise to music, circuit step Reebok and competing would have resulted in me ending up on Andrews gait analysis pad!. That was the beginning of the beginning (not the end) for me wearing 'foot beds' in my trainers for outdoor circuits. Andrew came across as passionate and as gregarious, as I am about my well-being business. Little did he know the motivational quote Ace – 'If you aren't living on the edge you're taking up too much room" had brought me to his Clinic'. Since then I have referred countless Ford employees and business colleagues, including my son, the paratrooper. Rhys like all paratroopers tab for miles and circuit every day with stress fractures.
It was the paratrooping 'mind set' we touched on yesterday, as I introduced a newly qualified Sports therapist, Gareth Thomas to them at the Clinic. Gareth and I want to build on a strong working relationship within the work place and I want to add Andrew's expertise foot/leg gait solutions to our service. It's also my intention to offer my service to his Clinic, so watch this space…
How was your Friday?
Carolyn, helping you to #Sparkle with Confidence on Social Media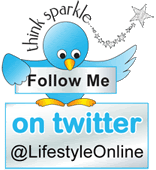 www.lifestyle-online.co.uk
www.facebook.com/LifestyleOnline