Photo courtesy of Flickr
The Savvy Shoot Story so far..
Following my recent blog Business : Savvy Designer Chic, Classic and Comfortable #Smiles on Social Media I was nudged into asking if there would be any candidates for the fashion shoot for the savvy shoot? Now StuArte's post this morning suggests he is fashion conscious.
So I would like all those lads and lasses, to step forward if they would like to improve their business profile? Any takers?
Maybe the lads could have their shoot with Penny and the lasses with Thomas? Waddya think? Any donations raised could go to a deserving nominated Charity. This Savvy Shoot idea was suggested by this lady!
Now I don't feel at ease in front of a lens as you may have read in my Community Story? Neither do I feel at ease in large gatherings/events. So I have registered for Ecdaemy's 12th Birthday Party and would love to meet a handful of connections beforehand in the afternoon. Any takers?
Enjoy the weekend and it's Here!!
Carolyn, helping you to #Sparkle with Confidence on Social Media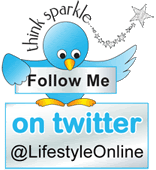 www.lifestyle-online.co.uk
www.facebook.com/LifestyleOnline